Company Style
CJTI Development History
Jiangsu Textile Research Institute Inc.

(formerly named Jiangsu Textile Research Institute)
Development History
Provincial Differential textile new product technology development (pilot) base
Jiangsu Differential Fiber Engineering Research Center
Aiming at hi-tech, high value-added functional fiber and new composite fiber materials
Conductive, Micro, Antibacterial, Flame retardant, Far infrared, Anti-static, Anti-electromagnetic radiation and Stainless steel fiber and other functional fibers and textiles are well received by market users.
Research on corona discharge dyeable conductive fiber and development of special functional fabric won the first prize of Jiangsu Province Science and technology progress and the second prize of national science and technology progress, filling the domestic blank.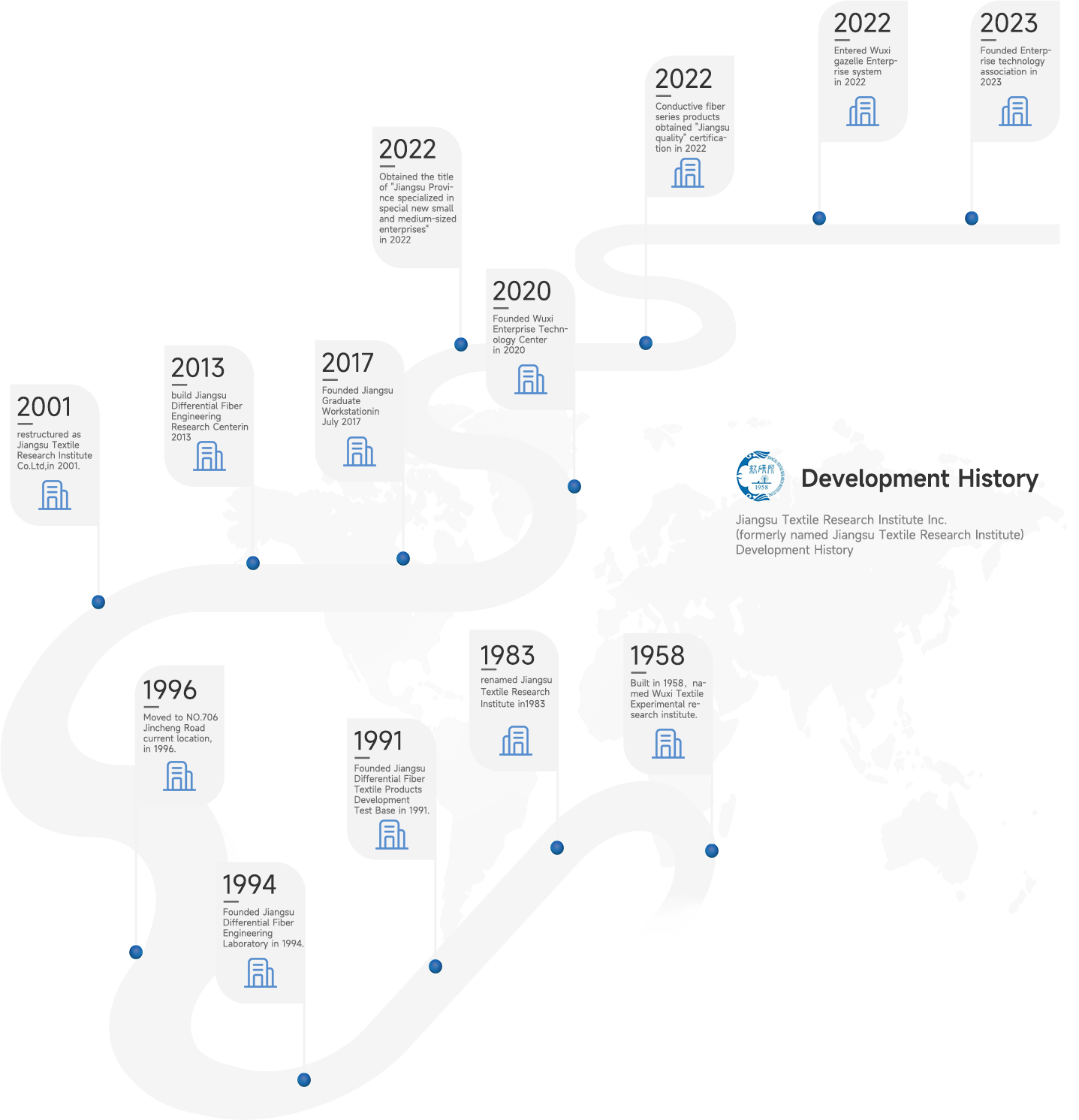 ---
Testing and Certification of Functional Textiles
National Qualification:high-tech enterprise
Provincial and Municipal Qualification:Provincial metrological certification of physical and chemical testing center;Jiangsu Differential Fiber Engineering Research Center;Council member of Jiangsu Textile Engineering Society;Wuxi Spiritual Civilization Unit;Wuxi Enterprise Technology Center
University Cooperation Qualification:Graduate Workstation of Jiangnan University
Evaluation Service for Functional Specification of Textiles
With the rapid development of functional textiles, these specifications are increasingly enhanced and widely used in general textiles, such as functional clothing, sportswear, outdoor wear, smart textiles and protective clothing. TTRI provides evaluation items as following:
● Moisture absorption, perspiration and quick drying-liquid moisture Management Test
● Cool/warm touch feeling test
● Heat-regenerating and thermal property test
● Dynamic thermal regulation test
● Anti-static test
● Ultraviolet resistance test
● Transparency test
● Waterproof and breathability test
● Elastic property test
● Electromagnetic shielding test
● Infrared analysis
● Odor analysis
---
Capacity for scientific research



The company has 82 employees, including 28 scientific and technological personnel.
There are 2 senior titles and 7 associate senior titles (2 persons of "333 High-level Talents Training Project")
12 Intermediate titles.
Get the latest price? We'll respond as soon as possible(within 12 hours)